Dr. Vipul Patel
Podiatrist in Shepherdsville and Lousiville, KY
Bullitt County Foot & Ankle Center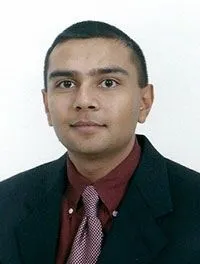 Dr. Vipul Patel at Bullitt County Foot & Ankle Center maintains the highest levels of accreditation and pursues ongoing education to stay ahead of the latest trends in foot & ankle surgery.
Education & Training:
Board Certifications:
Board Certified in Foot Surgery by the American Board of Podiatric Surgery .
Board Qualified in Reconstructive Foot & Ankle Surgery by the American Board of Podiatric Surgery.
Specialities:
Reconstructive foot & ankle surgery
Foot & Ankle trauma
Foot & Ankle fractures
Foot & Ankle arthritic conditions
Pediatric Foot & Ankle injuries
Gait abnormalities
Bunion & Hammertoes
Heel pain
Diabetic foot care
Wound care
Sports Medicine
Custom braces and orthotics
Ingrown toenails
Skin biopsy
Warts
Professional Organizations:
Hospital Affiliations:
Jewish Hospital Downtown
Jewish Medical Center East
Jewish Medical Center South
Jewish Medical Center Northeast
St. Mary's Hospital
Norton Hospital Downtown
Norton Brownsboro Hospital
Norton Suburban Hospital
Norton Audubon Hospital
Kosair Hospital Downtown
Kosair Brownsboro Medical Center
Baptist East Hospital
Baptist Eastpoint Medical Center
Baptist Hospital Northeast
Other Affiliations:
Attending faculty at the Norton Hospital Podiatric Residency Program.